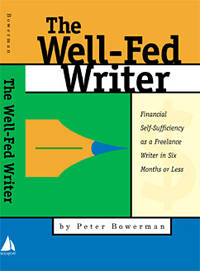 From the table of contents:
Introduction……………………………………………
The Joy of Doing What You Love

Sharing My New Career Excitement (and Success!)

No Contacts, No Experience, No Writing Background (My Story) -- No Problem!
A 20-year Veteran Says: "I know of no other area of writing so lucrative, yet so easy to get started in."
Leverage What You Do Know
$19.95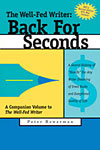 (Sample Chapter)
Introduction:
Welcome back. A lot has happened in the four years since The Well-Fed Writer came out. Little did I know what I'd unleash. In that time, most importantly, I've learned that there a lot of roads to "well-fed writing," which, of course, has always been the focus in my books, ezine and seminars. I've never been interested in providing ways to simply eke out a subsistence living as a freelance writer and stay one short step in front of the bill collectors. You can find that anywhere.
Only $14.95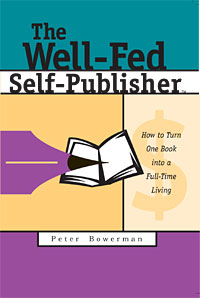 When you buy The Well-Fed Self-Publisher, you get:
1) FREE Shipping (within U.S. ONLY)
2) FREE e-Book Bonus (instant download after purchase): The Well-Fed Self-Publishers Time Line
"Time Line" Description: Crucial to self-publishing success is understanding what to do, when to do it, and how to do it. Here's your own printable version of Appendix C straight from the book, with all the pertinent URL links to the different steps (more links have been added for this version!) and check boxes before each step. It's guaranteed to keep your self-publishing success story on track!
Only $19.95