The History of Tarpon Springs
Local History - Tarpon Springs, Florida -- Tarpon Springs is the northernmost city of Pinellas County. And probably some outside of Florida, have heard of this city with its famed Greek Heritage. But the first settlers were mostly northerners who were attracted by the natural Beauty of the Anclote River. Many northerners, who started settling in 1876, constructed Victorian homes on the bayous during the 1880's and 1890's. The city was named for a 'leaping fish,' mistakenly thought to be tarpon. The fish were actually mullet.
Sponge Boats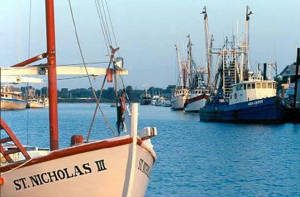 Tarpon Springs was incorporated in 1887. The sponge business was started by two businessmen and well underway by 1890. One of the sponge industry founders, John Cocoris, and a native Greek, was very knowledgeable about sponge procurement and processing. By 1905, Corcoris had brought his brothers and many friends from his native Greece to improve on local sponging. Most Greeks came from the Dodecanese Islands in the Aegean Sea. With successful methods that included rubberized diving suits and helmets the local sponging industry flourished. By 1905, over 500 Greek sponge divers were at work using 50 boats. A Sponge Exchange was created in 1907. By the 1930's, Tarpon Springs started taking on its present identity as "the sponge capital of the world," and the sponge industry was having a heyday. The sponge docks replicated a Greek port city. The sponge industry was the largest industry in Florida, until the citrus industry surpassed it. But by the 1940's, the sponge beds were reduced and contaminated by bacteria. And certainly synthetically made sponges curtailed demand. The industry rebounded somewhat in the 1980's, as some local beds improved.
Today, the "tourist draw" of this historic Greek sponge industry is the economic mainstay. St. Nicholas Greek Orthodox Cathedral is modeled after the great Byzantine cathedrals of St. Sophia in Istanbul, Turkey. The current church was built in 1943, replacing the 1907 first church.
Anaclote key, right off Tarpon Springs, is also the northernmost barrier island. The eastern leg of the protected Gulf Intercoastal Waterway starts inside Anclote Key and goes south all the way to Fort Myers, Florida. The 96-foot lighthouse on Anclote Key was known to the Greek Sponge divers returning from out in the Gulf as their "Angel of Mercy." The lighthouse was decommissioned in 1984, but restored and then put back into commission in 2003.
Anclote Key Light Structure